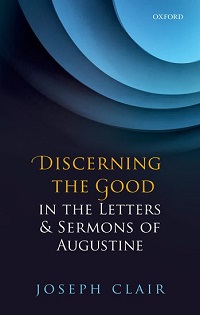 © Oxford University Press

Joseph Clair

Discerning the Good in the Letters and Sermons of Augustine
Inhalt
Discerning the Good in the Letters and Sermons of Augustine turns to the vast collection of moral advice found in Augustine's letters and sermons, mining these neglected and highly illuminating texts for examples of Augustine's application of his own moral concepts. It focuses on letters and sermons in which Augustine offers concrete advice on how to interact with the various goods relevant to social and political life. A special set of goods reappears throughout the letters and sermons, namely sexual intimacy and domestic life, power and public office, and wealth and private possessions. Together, these goods form the central topics of this book.
Joseph Clair highlights that the most revealing cases are those in which an individual must choose between competing goods, and cases in which an individual's role and role—specific obligations inform their decisions. Such cases uncover the nimbleness of Augustine's moral reasoning in action—an artful blend of scriptural interpretation, virtue theory, and sensitivity to the circumstances of individual lives. He reveals that Augustine's understanding of the goods constitutive of social and political life is deeply indebted to the Stoic and Peripatetic doctrine of oikeiōsis, or "social appropriation". The colorful, personal, and practical details found in these writings provide a window onto Augustine's moral reasoning not available in his more theoretical treatments of the good, and the concrete cases often illustrate the human significance of properly discerning the good. Beyond providing one of the first analyses of these ethical writings, this work contributes a new sense of Augustine's ethics—both in terms of the range of questions he addresses and the manner in which he treats them.
Der Autor
Joseph Clair is Director of the William Penn Honors Program and Assistant Professor of Religious Studies at George Fox University.
Bibliographische Informationen
| | |
| --- | --- |
| Erscheinungsform: | Hardcover |
| Umfang: | 208 Seiten |
| Sprache: | Englisch |
| ISBN-13 (Hardcover): | 978-0-19-875776-4 |
| Verlag: | Oxford University Press |
| Erscheinungsort: | Oxford |
| Erscheinungsjahr: | 2016 |
| Preis (Hardcover): | GBP 55.00 |
| E-Book: | This title is available as an ebook. To purchase, visit your preferred ebook provider |
Weiterführende Links