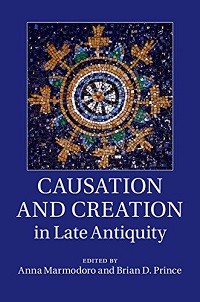 © Cambridge University Press

Anna Marmodoro / Brian D. Prince (Ed.)

Causation and Creation in Late Antiquity
Beschreibung
Written by a group of leading scholars, this unique collection of essays investigates the views of both pagan and Christian philosophers on causation and the creation of the cosmos. Structured in two parts, the volume first looks at divine agency and how late antique thinkers, including the Stoics, Plotinus, Porphyry, Simplicius, Philoponus and Gregory of Nyssa, tackled questions such as: is the cosmos eternal? Did it come from nothing or from something pre-existing? How was it caused to come into existence? Is it material or immaterial? The second part looks at questions concerning human agency and responsibility, including the problem of evil and the nature of will, considering thinkers such as Plotinus, Porphyry, Proclus and Augustine. Highlighting some of the most important and interesting aspects of these philosophical debates, the volume will be of great interest to upper-level students and scholars of philosophy, classics, theology and ancient history.
Covers an interdisciplinary scope of approaches to causation and creation in late antiquity, including historical, philosophical and theological
The only collection of studies on these topics, defining a new field in ancient philosophy
Includes multiple perspectives on important thinkers of late antiquity
Die Herausgeber
Anna Marmodoro is an Official Fellow in Philosophy at Corpus Christi College, University of Oxford. She is the author of Aristotle on Perceiving Objects (2014), and editor of a number of volumes including The Author's Voice in Classical and Late Antiquity (co-edited with Jonathan Hill, 2013) and The Metaphysics of Powers: Their Grounding and their Manifestations (2010).
Brian D. Prince is a Postdoctoral Researcher at the University of Oxford. He has published articles in journals including Apeiron: A Journal for Ancient Philosophy and Science and Plato: The Internet Journal of the International Plato Society.
Bibliographische Informationen
| | |
| --- | --- |
| Erscheinungsform: | Hardcover / eBook |
| Umfang: | XI-299 Seiten |
| Sprache: | Englisch |
| ISBN-13 (Hardover): | 978-1-107-06153-8 |
| ISBN-13 (eBook): | 978-1-316-23665-9 |
| Verlag: | Cambridge University Press |
| Erscheinungsort: | Cambridge |
| Erscheinungsjahr: | 2015 |
| Preis (Hardcover): | GBP 60.00 |
Weiterführende Links