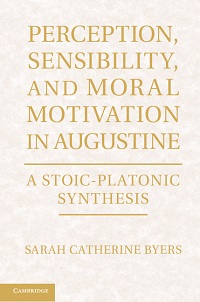 © Cambridge University Press

Sarah Catherine Byers

Perception, Sensibility, and Moral Motivation in Augustine
A Stoic-Platonic Synthesis
Beschreibung
This book argues that Augustine assimilated the Stoic theory of perception into his theories of motivation, affectivity, therapy for the passions, and moral progress. Using his sermons to elucidate his treatises, Sarah Catherine Byers demonstrates how Augustine enriched Stoic cognitivism with Platonism to develop a fuller and coherent theory of action. That theory underlies his account of moral development, including his account of the mind's reception of grace. By analyzing Augustine's engagement with Cicero, Seneca, Plotinus, Ambrose, Jerome, Origen, and Philo of Alexandria, Byers sheds new light on a major thinker of the early Christian world whose work is of critical importance for understanding key and recurring themes in Western philosophy.
First study to show that a Stoic account of perception and mental language underlies Augustine's moral psychology
First study to resolve interpretative puzzles about famous passages in Augustine's major works by using his more than 500 sermons and commentaries on the psalms
Resolves the debate about the chronological development of Augustine's theory of grace
Die Autorin
Sarah Catherine Byers is an Assistant Professor in the Department of Philosophy at Boston College. She has held research fellowships at the University of Notre Dame, the Pontifical Institute of Medieval Studies in Toronto and Villanova University, Pennsylvania. Her articles have appeared in the Journal of the History of Philosophy, the Review of Metaphysics, Augustinian Studies, A Companion to Augustine (2012) and Augustine's City of God (2013).
Bibliographische Informationen
| | |
| --- | --- |
| Erscheinungsform: | Hardcover |
| Umfang: | XVIII-248 Seiten |
| Sprache: | Englisch |
| ISBN-13: | 978-1-107-01794-8 |
| Verlag: | Cambridge University Press |
| Erscheinungsort: | Cambridge/New York |
| Erscheinungsjahr: | 2013 |
| Preis: | U$D 99.99 |
Weiterführende Links