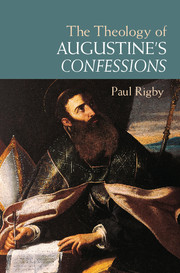 © Cambridge University Press

Paul Rigby

The Theology of Augustine's Confessions
Inhalt
This study of the Confessions engages with contemporary philosophers and psychologists antagonistic to religion and demonstrates the enduring value of Augustine's journey for those struggling with theistic incredulity and religious narcissism. Paul Rigby draws on current Augustinian scholarship and the works of Paul Ricœur to cross-examine Augustine's testimony. This analysis reveals the sophistication of Augustine's confessional text, which anticipates the analytical mindset of his critics. Augustine presents a coherent, defensible response to three age-old problems: free will and grace; goodness, innocent suffering, and radical evil; and freedom and predestination. The Theology of Augustine's Confessions moves beyond commentary and allows present-day readers to understand the Confessions as its original readers experienced it, bridging the divide introduced by Kant, Hegel, Freud, Nietzsche, Heidegger, and their descendants.
Is the only current book-length treatment of the Confessions

Addresses the common claim that Augustine's theology of original sin, grace, and predestination is incoherent

Presents the Confessions as a strong antidote to our culture's tendency toward disbelief
About the Author
Paul Rigby is a professor in the Faculty of Human Sciences at Saint Paul University, Ottawa. He is the author of Original Sin in Augustine's Confessions.
Bibliographische Informationen
| | |
| --- | --- |
| Erscheinungsform: | Hardback |
| Umfang: | 340 Seiten |
| Sprache: | Englisch |
| ISBN-13: | 978-1-107-09492-5 |
| Verlag: | Cambridge University Press |
| Erscheinungsort: | Cambridge |
| Erscheinungsjahr: | 2015 |
| Preis: | GBP 67.00 |
Weiterführende Links