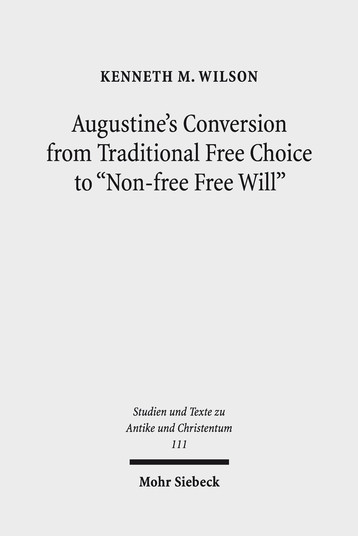 © Mohr Siebeck

Kenneth M. Wilson
Augustine's Conversion from Traditional Free Choice to "Non-free Free Will"
A Comprehensive Methodology
(Studien und Texte zu Antike und Christentum / Studies and Texts in Antiquity and Christianity 111)
Inhalt
The consensus view asserts Augustine developed his later doctrines ca. 396 CE while writing Ad Simplicianum as a result of studying scripture. His early De libero arbitrio argued for traditional free choice refuting Manichaean determinism, but his anti-Pelagian writings rejected any human ability to believe without God giving faith. Kenneth M. Wilson's study is the first work applying the comprehensive methodology of reading systematically and chronologically through Augustine's entire extant corpus (works, sermons, and letters 386–430 CE), and examining his doctrinal development. The author explores Augustine's later theology within the prior philosophical-religious context of free choice versus deterministic arguments. This analysis demonstrates Augustine persisted in traditional views until 412 CE and his theological transition was primarily due to his prior Stoic, Neoplatonic, and Manichaean influences.
Autor
Kenneth M. Wilson, Born 1956; 1981 Doctorate in Medicine from The University of Texas Medical School; 1989–95 Assistant Professor of Orthopaedic Surgery at Oregon Health Sciences University; 2003 M.Div.; 2006 Th.M.; 2012 D.Phil. in Theology from the University of Oxford; currently a Board Certified Orthopaedic Hand Surgeon in Salem, Oregon and Professor of Church History and Systematic Theology at Grace School of Theology in The Woodlands, Texas.
Bibliographische Informationen
| | |
| --- | --- |
| Erscheinungsform: | Paperback |
| Umfang: | XXIV-388 Seiten |
| Sprache: | Englisch |
| ISBN-13: | 978-3-16-155753-8 |
| Verlag: | Mohr Siebeck |
| Erscheinungsort: | Tübingen |
| Erscheinungsjahr: | 2018 |
| Preis: | EUR 94,00 |
Weiterführende Links